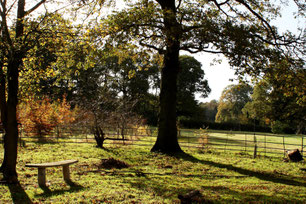 The Society is working with the George Fentham Trust to carry out maintenance on the Arboretum and we have been advised to carry out the jobs below. We start work at 2pm and will continue till dusk. Please come and join us! Please also bring any tools that would help with the jobs listed.
Litter pick especially around perimeter and gate area at bottom of Arboretum
Pull out or cut down weeds round trees (but don't dig down)
Mulch around all trees in a doughnut shape
Check which trees are dead and record on map
Check which plaques are missing and record on map
Cut stingers and brambles down around perimeter (inside Arboretum)
Potentially, plant some trees if the Trust have any that we need 
We plan a short break around 3pm; would you please bring your own refreshments? As there is no parking at the Arboretum, please park in the Recreation Ground Car Park and walk through the Spinney.
We expect this to be an interesting and very rewarding event. If it proves popular, we will arrange regular maintenance events of this type.